News
Are you committed, or just interested?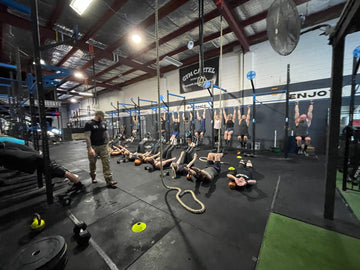 Are you committed, or just interested?
There's a difference. There's really wanting to do something and starting it, giving it a solid effort, going through struggle and achieving an outcome, whatever that may be.
Then there's committed. There's repeated effort, after effort, after repetitive effort. There's sacrifice. There's saying 'No'. There's the risk of being seen as "obsessed". There's a total dedication to whatever it is to what you're trying to achieve. There's also failure, after potential failure. Setbacks. Injuries. Being told "No" or that you're not good enough. Being denied entry by the gatekeepers. Yet still showing up, end-state focussed, eye on the prize.
This is where our commitment reveals itself. Commitment is doing what you said you'd do long after the energy that made you want to do it is gone. This applies in all walks of life: Relationships, fitness goals, career ambitions, starting a business and ticking off your daily to-do list.
In the SCTN workouts, we ask participants to commit. Firstly, to the team. Commit to your brothers and sisters around you that you will be there for them, in any way they need. Commit to not letting them down.
Then we ask participants to commit to themselves. We ask them to commit to their very best. Not just good, not just more than usual. THEIR VERY BEST. It is in those moments where they choose to go past where they have gone before, past where they feel they should go, that real growth happens and a marker cements itself in the timeline of their mind, showing them just how far they can go if they commit to going there.
Whilst running a 14-hr event earlier in the year, a participant was asked, "Why are you here?" The reply was a jovial, "I just think it'd be a cool story to tell. Did something hard and came away with a bit of an experience." The DS and I looked at each other and immediately knew there was something deeper that wasn't being said. However, it wasn't until later in the evening (read: morning) that this participant, as well as most of the others, finally committed. They acknowledged the real reason why they came to that event: To see if they would commit to the entire thing because it was a far bigger commitment than they'd ever attempted.
We reminded them that commitment isn't one sustained effort. It's small, consistent efforts that add up over time. 14 hours could be broken up into one activity session at a time, one hour at a time, one 400m run, crawl, PT or skills session at a time. Commitment is a series of choices that gets us over the line, one inch at a time.
So the next time you decide to commit to something, ask yourself:
Are you committed, or just interested?
Want to test your commitment? Reserve your spot at the next SCTN event below:
https://www.eventbrite.com.au/e/sctn-military-style-workout-98-brisbane-tickets-425544122927