News
WPN. Founder, Daniel Jones shares a shakka with Richie Strahan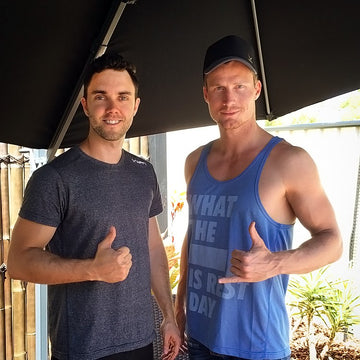 [vc_row][vc_column][vc_column_text]
Perth based men's active wear label, WPN Wear have caught the attention of Bachelorette favourite and man of the month, Richie Strahan!
The young entrepreneurs behind WPN are addressing a gap in the men's active wear market and have reinvented men's boring and uncomfortable sportswear to produce a collection that is high quality, fashion forward and has features including a pocket for your iPhone and unique dry shield technology to keep away those work out smells!                      
Their
currently crowdfunding via a Kickstarter campaign
to help take their products global, and have on week left to reach their target!
Currently training for the Rotnest Channel Swim, putting the WPN gear to its paces, Strahan dropped in to WPN. HQ to get fitted out for his attempt at the event. With a week left of their Kickstarter campaign to help take their products global, Jones is excited to see Richie loving his brand and products. "Richie is a great bloke, he captures the essence of WPN. Slogan 'Live It; with his attitude and energy!" "I'm sure our apparel will compliment his love for the outdoors and active lifestyle perfectly", Jones said of Strahan reppin his gear. You can stay up to date with Richie and his testing of WPN. gear across his Social Media channels:
[/vc_column_text][/vc_column][/vc_row]