News
Mindfulness in the military: Lessons in resilience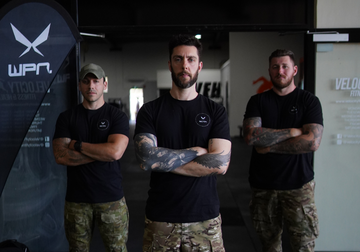 Mindfulness in the military may not originally be thought to go hand in hand. Yet, what Darren Hurford soon discovered during his time in the forces is resilience. And, with resilience comes mindfulness. It may have not been easy, nor a fast lesson, but a significant trait nonetheless. 
This week for our Mindful Monday Darren took over and shared with us his journey of resilience during his time in the army. While we're at it, we'd also like to introduce you to a new addition to the WPN brand – SCTN. 
SCTN has been curated as a unique extension of WPN, sitting alongside WPN itself, and SORA. Established to develop and challenge mental health, resilience, grit, and determination, SCTN simulates the truest and most realistic experience of any military inspired program available, drawing on real world experiences from special forces selection courses.
Our first SCTN Session is this Saturday in Brisbane. For more details, see here. And now, over to Darren. 
What is resilience? Some would argue it's how much you can take, or how you rise again after a set-back. In my experience, resilience comes after doubt, after struggle, after failure. It comes after you've experienced all that, seen the odds stacked against you then made a decision – to do it anyway.
Resilience is built over time. It's created after a multitude of experiences where you make the same choice over and over: to do the hard thing. I used to think resilience was just born through osmosis, occurring by itself because I had no choice but to carry on. On training exercises for 3-5 weeks at a time, there was no option to hit snooze, take off my pack, or watch tv instead of prepping my gear. We didn't get to slack off because nobody was looking. It was only after leaving the army that I started to realise resilience is created every day through the choices we make.
We are our choices. The choice to hit snooze or get up, to do food prep the night before instead of watching TV; the choice to work all the way to the buzzer or stop when the three-second countdown timer starts; to hold that push-up position instead of bending your knees, or to hold yourself accountable to run every single one of those interval sprints you said you would. The effects of our choices are cumulative, often being the difference between confidence in our abilities or self-doubt.
"You don't rise to the occasion; you fall back on your level of training."
In times of stress, we revert to habits. Our habits, good or bad, are created through the choices we have made and will undoubtedly be repeated in periods of adversity such as those that we simulate in SCTN. Bad habits are forged through repeated actions, so it takes a concerted effort to create and stick to new positive ones, requiring focus, determination and dedication. It is making the choice to repeatedly do the hard thing that will yield a better result. Here, resilience is feeling like you're not getting anywhere, but doing it anyway.
"The links in the chain of habit are too small to notice until they are too strong to be broken."
To me, mindfulness is consciousness. Simply taking a pause and being aware of the feelings you have, positive or negative. The military term for this would be Situational Awareness, or SA. SCTN incorporates this by asking people to pay attention to any thoughts, memories or general feelings that may come up for them regarding themselves and what they're going through.
SCTN holds a mirror up to those willing to throw their hat in the ring and see what they're made of. You don't know how truly strong you are until you've been pushed well past your perceived limits and you have no choice but to continue forward. We ignore those limits, apply continuous pressure and show you what you're capable of. We help you to realise your strengths, give you some SA on your weakness, as well as provide opportunities to make choices that will strengthen your resolve and build Resilience Through Adversity.
Despite what happens, what failures you come across and what puts you on the ground, you can, you must, get back up. That is strength. That is courage. That is resilience.
That is SCTN.