News
The Instagram Accounts To Follow For Mindfulness & Positive Mentals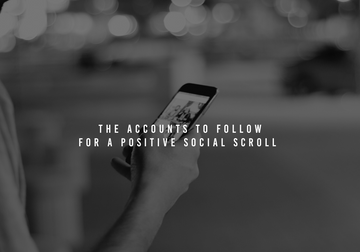 Mindfulness – the new kale? We vote no. Unlike fad diets and fad foods, mental health is a non-negotiable.
So, with mindfulness and good mental health at the forefront of society, how can we incorporate it more into the day-to-day without needing to find more time? 
Well, it starts with what we already engross ourselves in. While many sources suggest social media has a negative impact on our mental health and mindfulness (which in many cases is accurate), it's what you consume on these platforms that contributes negatively or positively. While social media isn't going anywhere and is almost unavoidable for many of us (for a multitude of reasons), we can incorporate some 'healthiness' into our online habits with positive and cognitive content. 
While you're in your feed, feed your mind, body and soul with feel-good, thought-provoking and supportive content. Where do you start? Right below. Have some suggestions to add? Add them in the comment below or send us a message!
Accounts for: psychology facts, support & strategies
Accounts for: affirmations, self-love & spirituality
Accounts for: healthy relationships with food 
Accounts for: Sexual health & embodiment