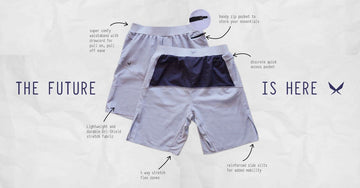 [vc_row][vc_column width="1/4"][/vc_column][vc_column width="1/2"][vc_single_image image="2969" img_size="large" onclick="link_image"][vc_column_text]
Whether you're actively pursuing that elusive beach-bod, or just hoping to give off an athletic vibe at the local coffee shop, the fresh new collection of
high performance shorts
from WPN. has you covered.
Over the next couple of weeks we'll giving you the low down on each style and just what sets them apart.
Today we're throwing the Future shorts under the spotlight. Made with form, fit and function in mind the Future shorts are a result of extensive R&D. We did our research and worked out a formula for mixing
high performance shorts
with street style appeal.
Flexibility
It all starts with the fabric. Our light weight, durable Dri-Shield fabric will keep you dry throughout intense workouts and has that added stretch that moves with you. There's nothing worse than racking up the iron to shoot for your PB and half way through the squat you realise your shorts are stuck and aren't about to move an inch without tearing a hole exposing your not so clean budgie smugglers. Thankfully we've engineered our Flex-Zones that are positioned throughout the crotch area to give you that added mobility and stretch when performing exercises like squats, lunges or high kicks to the head!
We've built in stealthy reinforced side slits to add to your range of motion. They are subtle enough to maintain casual street appeal but when thrown into overdrive open up and give you endless amounts of free movement.
Function
What would a
high performance short
be without a place for your necessities? We've included two styles of pockets to keep your most important belongings safe, out of the way but also easy to access. With our handy zip pocket to keep things under wraps in rapid movement. Need quick access to skip that Justin Beiber track that somehow found it's way in to your playlist? Our discrete quick access pocket is the perfect home for your smart phone or ipod.
Shorts should not only be functional but also comfy, right? Our Future shorts feature super comfortable elasticised drawstring waistband for pull on, pull off ease.  
Style
And what pair of shorts would be complete with a street appeal. We've stuck with a minimalistic style on the Future shorts. If you look carefully you'll notice both a light grey and black heather colour way complimented with flat lock stitching for both looks and comfort. Lastly, the electric blue drawstrings add a hidden splash of colour.
For a closer look, or to get your hands on these high performance shorts head to: https://wpnwear.com/shop/bottoms/future-shorts/
[/vc_column_text][/vc_column][vc_column width="1/4"][/vc_column][/vc_row][vc_row][vc_column][vc_gallery interval="3" images="2969,2970,2971,2972" img_size="large"][/vc_column][/vc_row]