Lifestyle
Working from home - 5 tips to setting up for productivity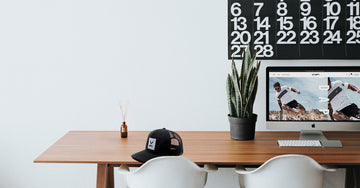 Due to the speed in which the COVID-19 pandemic has unfolded, many of us have been forced to work from home. Great if you're lucky enough to have a pre-existing home office, but for many it's going to be a case of rushing around at the last minute to set up your workspace somewhere in the home.
Once you are set up and ready to get stuck in to it, you may be faced with another set of challenges. Productivity when given this kind of flexibility can often slide and it can often be difficult to stay focussed and motivated. Depending on your level of commitment, it may be crucial for you to set a daily schedule and working boundaries.

Here are 5 tips to help you set up and work effectively from home.
1. Software and hardware
Before you set up your physical workspace, you'll need to make sure you have access to the right tools to carry out the job.
If you work off a server in your office check with your IT team and make sure you have remote access set up and ready to go. Alternatively, you may need to save your work on a hard drive.
If you are accessing large files from a remote server you may want to consider an upgrade to your internet service, especially if other members of your household are working from home at the same time. Having decent internet speed and connection could save you a lot of time and frustration.
Sending large files via email can also cause major headaches so a few alternatives you may want to consider are Dropbox, WeTransfer or Google Drive.
Meetings with clients or colleague is a piece of cake with the help of some great video chat apps such as Zoom, Skype and Facetime. Just be sure to tidy up the room in the background and try and dress professionally or at least business in the top, PJ's on the bottom.

2. Setting up your workspace
Our advice, start by finding a table that is at a good seating height with plenty of leg room. A dedicated office table would be ideal but more often than not the kitchen/dining table will suffice.
Make sure the environment is comfortable to work in and set up for productivity. If you're sitting in a noisy, high traffic area consider noise cancelling headphones. Lighting and temperature will also play a major part in your productivity so aim to set up in a room with either air-conditioning or a fan and the ability to regulate the brightness of the room.

3. Good posture for the win
Let's face it for most of us the majority of our day will be spent behind a desk so
creating a comfortable work station is key to helping promote efficiency.
When it comes to selecting an office chair what matters is whether your chair fits your needs. Try not to get sucked in to fancy marketing ads for expensive 'ergonomic' chairs or on the flip side, opting for the cheapest chair on the market. The end goal is to achieve comfort with a well-supported posture. Make sure your lower back is well supported, shoulders level and relaxed and your feet in a position that takes pressure off your thighs.
If using a laptop, set it up so you're not bending over to look at it all day. There are several cost-effective stands on the market to raise the height of the laptop screen so it is straight ahead. If you are working on a desktop the key is to set it up so you are able to keep a neutral position where the forearms, wrists and hands are in a straight line. A wireless external keyboard and mouse are ideal so that you can place them in the most comfortable position without getting tangled in a sea of cables.

4. Stay connected
Working from home can leave you feeling a little lonely and isolated, but it doesn't have to. Many of us will be going through a similar situation so it's important to keep up our connection with colleagues whether that be via messenger apps, video conference or phone call. Make sure to check in with one another on a regular basis, make it fun, celebrate your wins and keep up the banter.

5. Movement and mindfulness
This is a big one! Try to regulate the time you spend on the computer. We're all guilty of spending too much time staring at the screen but it is essential for your health that you take regular breaks. Work for half an hour and then give yourself a well-deserved break. Stretch, do a few push-ups, grab a drink of water, get some fresh air, take a moment to meditate or just sit in silence for a while. It will refresh your mind, improve your focus and productivity.
We wish you luck in your new home offices and hope that you all stay safe and take care of one another.