News
4 Ways To Feel Your Best At Home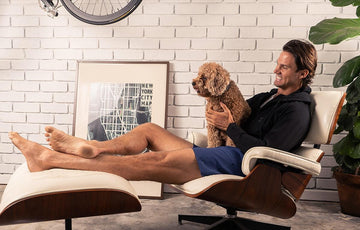 The last year has been challenging for most of us in some way, whether it be physically, mentally or emotionally. A big part of this has been due to the increasing amount of time being spent inside our home and often in isolation
Here are 4 ways to feel your best at home:
Create a Wellness Plan
If our physical wellbeing is lacking it's going to affect other areas of our wellbeing. It's very hard to regulate our emotions if we aren't feeling good. Focusing on our physical wellbeing as our foundation will enable us the best chance to have success in maintaining the other areas of our wellbeing.
The first step of your wellness plan is to assess where you're at and then create some 30, 60 and 90 day goals. Once you've created some personal goals, decided what habits need to be incorporated daily to make it a reality.
The next step is to schedule in your workouts. Being in the home environment we are susceptible to distractions more than ever, so it's important to block out times where you can completely focus.
Create a space that helps you feel motivated to workout. If you have a garage or a spare room it will help eliminate any distractions and allow you to get in the zone. If you can't seem to motivate yourself to workout then finding an online coach who does group classes is a good option to both inspire you and keep you accountable.
Invest in a WFH Space
If you or your company have moved to remote work, you're probably spending most of your time working from your couch or bed. 
If you have noticed your productivity has struggled since working from home, it might have something to do with where you're working.
By creating a dedicated workspace outside of these areas it can signal our body both physically and mentally to focus on work when in this space, whilst also allowing us to switch off when we are in other areas of our home.
Working from our bed can also have negative effects on our sleep by creating an association with wakefulness. We want to keep the activities in bed associated to sleep and intimacy.
Creating an office space at home will associate your space with work and boost your productivity. If you live in a small apartment, consider a corner desk or a fold-away desk, these clever desks are designed to fit perfectly in any nook in your apartment. Remember, all you need to create a functional workspace is a desk and a comfortable chair in a quiet space.
Investing in your home office will help you separate your work from home life and help you adjust 
Remember You Time
Spending time with yourself is one of the most important things you can do for your own self care. If you're a busy father or work for most of your day it can be challenging to find a moment to yourself, but finding time to create stillness is key to maintaining your mental health. Putting your self care routine on the back burner can lead to stress and anxiety, and can have an effect on your physical health, causing a multitude of issues from constant migraines to erectile dysfunction. Stay on top of your alone time to ensure a healthier life.

If you're stretched for time, it could be something as simple as sitting down, closing the eyes and doing a few rounds of box breathing to connect in with your breath and slow down. Other options could be hobbies that allow you to be completely present in the moment and bring you a sense of joy such as cooking or painting.
Taking time to connect
We are social beings and social interaction is fundamental to our health and wellbeing.
More time at home has led to many feeling isolated. If you're feeling this way and haven't been able to connect in person with the people you normally do, then video calls are a great way to feel connected when in person isn't an option. If you used to catch up for coffee daily with a friend but haven't been able to, schedule in your coffee catch ups via video calls from home.
Being stuck at home can be extremely difficult, which is why setting up a home environment that is conducive to maintaining your overall wellbeing is so important.