News
Fashion mistakes most men are making at the gym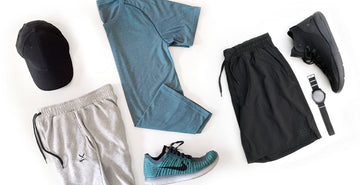 It's tempting to dress down for the gym.  After all, you're getting sweaty, and you're working hard so you can look good in all your other clothes.  So many guys pull out old t-shirts or dirty sweatpants for their sweat sessions.  However, it's a proven fact that dressing for success changes your approach to your workout.  If you step on the treadmill in a new tank and running shorts, you'll feel empowered.  For those guys seeking to break through a plateau, perhaps it's a fashion makeover that's needed.
Running Tights
This is a sensitive issue—one which is constantly being debated in fashion magazines and weight rooms around the world.  There's a rising trend of men wearing running tights to the gym for weightlifting workouts.  No shorts pulled over them.  Just the tights.  Sure, your camo tights look cool but there's one problem.  Tights are not crafted to hide certain anatomical parts.  And when you wear your tights sans shorts, everyone can see those parts.  Unless you're going for a run outdoors, layer your tights with a pair of shorts.
Cotton Shirts
While cotton is a breathable fabric, a sweaty cotton shirt holds onto to all that perspiration and adds weight to your body.  If you're running, it can bog you down.  If you're lifting, it can leave a wet mess on the bench.  The solution? A moisture-wicking shirt.  Moisture-wicking tops pull the sweat away from your body without weighing you down.  They keep you light and unburdened so you can power through the rest of your workout without issue.
Baggy Clothes
Even though the gym is less formal than the office, it's still important to wear clothes that fit.  For starters, ill-fitting clothing can ruin your workout.  Imagine moving through a heavy deadlift and getting your XL shirt tangled around the bar.  Clothing that's cut slim and fits appropriately allows you to see and execute proper form.  Additionally, the gym is quickly becoming a key place for networking.  You could end up meeting your next boss or the love of your life.  But if you're in clothes that don't fit, who's going to look your way?
Skip the Flip Flops
If you want to wear your flip flops in the shower, have at it.  Just keep them out of the weight room.  When you're lifting heavy, especially with squats or deadlifts, you need your feet firmly planted on the ground to get a full range of motion.  Flip flops are too flimsy to give you the support you need.  Plus, it's too easy to stub your toe or drop a weight on your foot.  Without the protection of lifting shoes or sneakers, you're in for some serious pain.
No Accessories
Guys who love their jewelry should leave it at home or in the locker room.  Metal pieces clanging against metal is just bad news.  You run the risk of scratching or damaging your jewelry.  And the metal mixed with your sweat could cause a skin reaction.  It's best to leave it behind.
Dressing for success at the gym might be different than the workplace but it still matters.