News
Men don't talk and it's killing us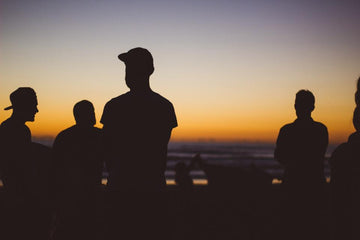 Men are dying everyday. The World Health Organisation estimates globally that of every 100,000 people 11.4 will die of deliberate self-harm. For females this rate is 8.0, for men it's 15.0. In 2014, the Australian Bureau of Statistics reported 75% of suicide related deaths to be male. This places suicide in the top 10 leading causes of death among men.
Let's get one thing straight; this isn't a competition. Men's lives don't matter any more or less than women's. In-fact the largest discrepancy in suicide rates isn't between the sexes, but based on economic status. In low-income societies the male-to-female suicide ratio sits at 1.6:1, whereas in middle to high-income societies (such as Australia) this figure increases to 3.5:1. This means that Australian men are above the 15.0 average global rates for males at 16.1 per 100,000. It begs the question: Why?
Psychology suggests men do depression differently. We're more likely to engage in destructive coping strategies: numbing, risky, avoidant and defensive behaviours. Often resorting to alcohol and drugs, gambling, aggression and social withdrawal. Furthermore, studies show a correlation between these traditional, manly actions and the likelihood of experiencing a depressive episode. So have the ladies got something worked out that we don't?
Talking to your mates can be the difference that saves a life. But it can be tricky. Research suggests that even those who are at risk will often misinterpret their own changes in behaviour. Has one of your mates recently switched his routine? Does he come off as moody? Are you seeing him less and less? It's worth going for a drink and asking, 'are you okay, mate?'. Even if you haven't been feeling yourself lately, chances are your friends have noticed. Loneliness and isolation is the psychological scourge of manhood, it's about time we did something about it.
Fortunately, times are changing and men's attitudes towards their mental health are shifting everyday. In recent years sportsmen, politicians, film stars and musicians alike have all stepped up to share their experiences with mental issues. We're talking about blokes as big as Brad Pitt, Kanye West and Mike Tyson – some of the manliest men to ever man. Mental illness doesn't discriminate.
There's never been a better time to speak up about men's mental issues. If you have concerns about your or a mate's wellbeing there are a wealth of resources at your disposal. Some of the best ones are linked below. Even hardened Aussie sports organisations like the NRL and AFL have started talking about men's issues. But why let it even grow to such a serious stage? Look for the signs, there are things you can do to combat mental illness right now. So maybe its time we talked about our feelings. It won't kill you.
www.mantherapy.org.au
www.mensline.org.au
www.beyondblue.org.au/who-does-it-affect/men
www.mindhealthconnect.org.au/mens-mental-health
https://headspace.org.au
www.nrlstateofmind.com.au
<iframe width="560" height="315" src="https://www.youtube.com/embed/4S9zgiNa5lw" title="YouTube video player" frameborder="0" allow="accelerometer; autoplay; clipboard-write; encrypted-media; gyroscope; picture-in-picture" allowfullscreen></iframe>