News
The Best Outdoor Gyms to Visit On Your Next Vacation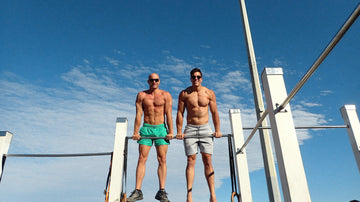 It's tough to keep up your workout routine while you're on vacation.  Hotel gyms are typically small and underequipped, and working through a HIIT circuit in your room just isn't the same as hitting the weight room.  One great alternative to get your heart pumping is to head outdoors.  According to ACE, one of the biggest personal training certification organizations, outdoor workouts can:
Keep you engaged with constantly changing surroundings
Burn more calories, due to wind resistance
Save you money, compared to buying passes for local indoor gyms
Give you an opportunity to meet other fitness enthusiasts, and
Help reduce or relieve feelings of depression, anxiety, and anger
Around the globe, tropical destinations have gone one step further than the typical hiking or bike trail.  Outdoor gyms provide the necessary equipment for a full workout—no substitutions or adjustments to your routine.  You can work on your tan, break a sweat, and maintain your workout schedule.  The following options are some of the most popular international locations.
Tulum Jungle Gym (Mexico)
Dubbed the "real life Flintstone gym", the Tulum Jungle Gym is located right on the beach in this quaint Mexican resort town.  Every day from 8 a.m. to 5 p.m., gym goers can work out using equipment that indeed looks like a modern-day version of a gym that Fred Flintstone would frequent.  Many of the weights, benches, and fixtures are made of wood.  Despite the prehistoric feel, this gym is fully stacked with foam rollers, kettle bells, Olympic plates, and a wide assortment of free weights.  A day pass is a little pricey, at $25 USD, but it's worth it to keep your fitness progress on track.
Barcelona Beach Street Workout Park (Spain)
While you're visiting Spain, it's tempting to relax your workout schedule and enjoy the local traditions like late dinners and daily siestas.  However, the Barcelona Beach Street Workout Park offers an impressive setup for an intense calisthenics workout.  This space is full of pull up bars and is really designed for HIIT and bodyweight workouts.  You'll need to go equipment-free, but you can still get a great workout in and you can do it for free.
Muscle Beach (California)
What's a trip to Los Angeles without spending a least one session at Muscle Beach?  The infamous outdoor gym is located on Venice Beach and is a favorite of both amateur and professional lifters.  This gym is the real deal, filled with weights and benches.  A day pass is just $10.  However, you should expect a crowd.  One of the most popular pastimes here is ogling the bodybuilders.
Bondi Outdoor (Australia)
If you're visiting Bondi Beach, Bondi Beach Gym is a must.  However, this isn't just a casual tourist gym.  This is the real deal.  Bondi Beach Gym offers classes, trainers, and state-of-the-art equipment.  Think of this as Equinox or any comparable luxury gym—it's just outdoors.  Depending on the length of your stay, you can buy a day pass, week pass, or 10-class pass.  Whatever option you choose, it's worth it.
Working out on vacation doesn't have to be a bore or a negative challenge.  Hit the nearest outdoor gym and turn your next workout into a memorable experience.