Style
Summer Style Guide: Look Your Best at the Beach and the Grill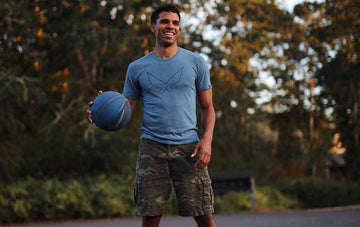 As much as we all look forward to summer, the simplistic fashion it calls for can actually be difficult to navigate.  During the colder months, we can lean on layers and accessories to add life to our looks.  But in summer, we're limited to light layers, t-shirts, tanks and shorts.  Despite the shrinking number of options, there are tons of ways to look great all summer long.  Whether you're making an appearance at a friend's barbecue or planning a big day at the beach, there's always a way to put your best fashion foot forward.
Show Some Leg
For the beach, it's all about your board shorts.  It doesn't matter if you're just taking in some rays or dominating the surf, you need a pair that is modern and well fitted to suit your physique.  If you're still hitting the shore in a pair of baggy cargo board shorts that hang down to your ankles, you're missing the mark.  Instead, opt for a pair of slim cut board shorts that have a 7" inseam.  This will hit just above your knee.  If you've consistent with leg day, go for the 5" inseam.  Just be sure to work on your tan beforehand.
For the perfect transitional summer shorts check out our new Onyx short:
[products skus="MS250, MS255" orderby="date" order="desc"]
Go Light
If you're spending an afternoon at a barbecue, you need to wear light, breathable fabrics that don't cause you to sweat any more than you already are.  Linen and cotton are your best friends in this scenario.  For pants, try a pair of light-colored chinos in white or khaki.  And don't worry about spilling barbecue sauce on them.  You'll look so good it won't even matter.
For your shirt, try the linen variety in a pastel blue.  It's a subtle hue that matches pretty much every color scenario.  Just be sure to buy one that's cut slim so you don't look like a dad on summer vacation.
Get Graphic
The basic white t-shirt will always be around.  Ever since Marlon Brando and James Dean made it cool back in the '50s, it has served as the simplest way to show off some masculine edge.  But summer is a chance to flex your style muscle.  In place of solid white tees, go for some shirts with bold graphic designs.  One of the biggest trends in men's fashion right now is the return of logo and statement tees. Here's our pick for some printed tank favorites:
[products skus="MS135, MS045" orderby="date" order="desc"]
Slip into Something Comfy
Once upon a time, slip-on sneakers were the exclusive property of surf culture. Now, they're everywhere you look.  If you're planning on trekking back and forth between the beach and the grill, pick up a pair made of canvas.  They'll be more flexible and sleeker than a leather pair.  And they're easy to shake sand out of.
Summer style can seem surprisingly daunting at first.  But with a few key wardrobe essentials in your closet, you can stay cool in the sun and look great regardless of the occasion.