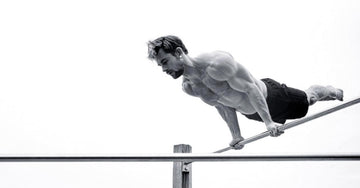 We all use Instagram for different reasons.  Maybe you're the kind of guy that loves a hilarious meme.  Perhaps you're just interested in keeping up with your friends' baby photos. Or maybe you're obsessed with sharing every detail of your own life. However, Instagram's fitness community has grown into millions of personal trainers and devoted fans in pursuit of the perfect body.  Whether you're searching for a little photographic inspiration or real info that you can use in the gym, the following experts are insta-celebs who pack in equal doses of practical information, motivation and entertainment.  
Nathan McCallum (@isnathan)
Nathan McCallum rose to prominence as a fashion influencer with an intense love for fitness.  His Tumblr-hosted blog, Bangarang, gained thousands of loyal followers by showcasing his punk-inspired outfits and the ins and outs of his breezy, Aussie life.  However, fans also noticed his killer six-pack and wanted insight into his gym routine.  Now, his Instagram account is chock full of shirtless selfies, outfit inspiration, comedy and some impressive CrossFit workouts. His gym skills were so impressive that he was recruited for a global MTV Fit campaign.  
Bradley Martyn (@bradleymartyn)
You might recognize Bradley Martyn from YouTube.  There, he posts informative workout videos for his more than 700,000 subscribers.  He even extended his knowledge to fellow YouTuber Yousef Saleh Erakat (FouseyTube), the wildly popular prankster who pulled off one of the most impressive physique transformations of recent years.  But Martyn's biggest stamp on public consciousness is his Instagram account, which boasts almost 2 million followers.  The guy is a beast who wants to share his knowledge and sense of humor with the world.  His account is filled with hilarious videos like the one in which he downs 100 chicken nuggets and then tries to push through 100 squats.  
Julian Smith (@smith.julian)
If you like your fitness served without any extra sides of fashion or comedy, look to Julian Smith for inspiration.  The self-proclaimed "Ultimate Leg Trainer" is an all-natural bodybuilder who uses each post to educate his quarter million followers.  From Smith squats to oblique twists, he walks you through the correct form for maximum impact.  His IG experience is further experienced by full workout details posted at his website, thequadguy.com.  If you need proof of his results, look no further than his incredible physique.  
Devin Physique (@devinphysique)
Devin Physique rose to prominence as a nationally recognized brand ambassador for Shredz supplements.  Now, he's a brand all on his own.  His posts are packed with inspiration: results from the clients he trains online, stories of his struggle before achieving insta-fame and photos of his own amazing transformation.  If you want to use Instagram as a vessel for achievement, look no further.  
Anthony Thomas (@anthonythomas33)
Anthony Thomas is flat out a diamond in the rough. Anthony is the Jack-of-all-trades. From freerunning, flips, and handstands, to golf, kickboxing, and calisthenics; he is an all around talent and one of the fastest learners around. Not to mention he graduated from the #1 College in the USA, University of California Berkeley with a major is Sociology. His fitness-modelling career has been on a steady climb and the number of countries he has travelled is climbing almost as fast. For a truly kind heart, valuable mind, and all around entertainment, follow Anthony as he makes one big move after another.  
Paige Hathaway (@paigehathaway)
As a bonus, if you're looking for some eye candy while you embark on your fitness journey, Paige Hathaway is the perfect solution.  She proves that women who lift can be just as sexy as ever.  The physique model has almost 4 million followers and sprinkles her account with a mix of fitness tips, product suggestions and sexy photoshoots.  You'll be in love…and motivated to hit the gym.