News
Melbourne, we're coming for you!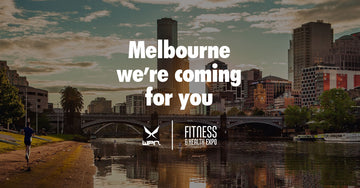 [vc_row][vc_column width="1/6"][/vc_column][vc_column width="2/3"][vc_column_text]
Heads up Melbourne, WPN. is coming to town! No, we're not there to hang out with the hipsters, or get buzzed off your amazing coffee, or even admire the copious amounts of street art. We're there next weekend for all the fun and games as part of the 2016 Fitness & Health Expo from April 29 - May 1.
[caption id="attachment_3140" align="aligncenter" width="640"]
WPN. will be at the 2016 Melbourne Fitness & Health Expo[/caption]
We'll be honest, we're gonna try and make time to see the sites you've been raving about but it will be quickly back to business in the biggest fitness and health based expo in the country.
Over 2000 health industry professionals converge on the Melbourne Convention & Exhibition Centre over the weekend and while we can't wait to see them, we want to see everyone else there too.
It's a fantastic opportunity to meet some of the biggest names in the health industry including Shannon Ponton, Amanda Bisk and Instagram star Simeon Panda. You can find out more about the fitness and health expo at: https://www.fitnessexpo.com.au/melbourne/
We'll be officially unveiling our latest collection and offering exclusive expo only specials, giveaways AND a chance for you to win some WPN. swag.
30% discount ALL weekend
Yep, that's right. 30% off all the latest WPN. gear for the entire expo when you come visit us at our stand. That'd be Exhibit J12 for those of you playing at home.
WPN. X T-Shirts LIVE
We'll be unveiling our brand new range of high performance IceSkin™ T-Shirts at the expo.
We'll be demonstrating scientific proof of how they cool down your bodies core temperature as you sweat. The technology in these shirts is insane!
Not only are they technically advanced, they look good, fit superb and are incredibly comfortable.
It will be the first time these T-Shirts are released in Australia and WPN. are the only stockist of the official IceSkin™ technology.
FREE WPN. IceSkin™ T-Shirts
[caption id="attachment_3136" align="alignleft" width="300"]
Darren Nankivell unveiling the WPN. range at the Fitness & Health Expo in 2015[/caption]
Once you see the most technically advanced T-Shirts in the world, you'll want one, right?
You could win 1 of 25 FREE IceSkin™ T-Shirts for simply being part of #TeamWPN. All you have to do is take a snap that features WPN.
Come take a selfie at our stand at the fitness exhibition or maybe a pic of you wearing your WPN. gear; whatever it is make sure you show it to our staff at the WPN. stand to see if you're one of the first 25 people to receive a free IceSkin™ T-Shirt.
Even if you miss out, we'll have plenty more swag available to make you part of #TeamWPN.
Win $150 worth of WPN. gear
Over the weekend we'll be drawing two winners of $150 worth of WPN. apparel!
Visit our stand and take a pic with our Instagram frame.
Upload it to Instagram, tag @WPNWear and use the hashtag #TeamWPN for your chance to win.
We'll repost the winners so you keep an eye out to see if you have won.
---
If you're in Melbourne make sure you come past and say hi. We'd love to chat and meet with all the awesome people behind #TeamWPN (that's you)
See you there!
[/vc_column_text][/vc_column][vc_column width="1/6"][/vc_column][/vc_row]