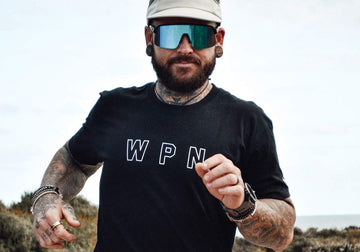 Our mission at WPN is to give men and women the tools they need to live more healthy lives in a holistic sense - mentally, physically and emotionally. That is why we align with trail blazers in this field, like our guy Will Burnett who not only has an inspiration story about mental toughness, transformation and resilience but who carries the torch to becoming the change. We're extremely proud to be supporting Will and his Run for Will campaign kicking off this September
Read on to get sneak peak of Will's story and the incredible journey he is about to embark on.



"Hi my name is Will - I am a veteran of 12 years, father of 4, husband and Ultra Endurance Athlete.
6 years ago I was medically discharged and retired from the Australian Defence Force with a series of physical and mental health conditions that were predicted to impair me for life. By the age of 35 it was expected I would be in a wheelchair totally and permanently impaired.
Through dedication and discipline to holistic health practices such as Breath-work, Meditation, Organic Foods and clean water I have healed my body from all conditions. 
For a long time I struggled with the darkness of mental health, oftentimes consideration of suicide would cripple my very being.
If it had not been for my will to live this story would have a different ending. When I healed my body, I committed myself to educating humans all across the globe on these very practices and have witnessed and experienced healing of all magnitudes. Everything from Cancer to Arthritis, to depression and PTSD.
Today I stand before you as a devoted practitioner committed to serving veterans transitioning from service life to civilian life. I am on a mission to reduce, eradicate and change the narrative that crippled our culture.
And you can help me prevent veteran suicide by joining me for my upcoming campaign...#runwithwill.
On the 7th of September I will be stepping off to tackle several world records by running 81 consecutive Ultra Marathons. I will be running from Margaret River WA to Byron Bay NSW.
How can you help?
I have teamed up with communities across the globe that align with my mission statement. WPN being one of my biggest supporters.
What can you do?
You can visit www.runwithwill.com and complete the following...
1. Register and create a profile
2. Choose to Run with me by picking a target distance and sharing on social media using the hashtag #runwithwill (you don't have to physically run with me, you can run from anywhere in the world - but you must register to go in the draw for over $10, 000 worth of prizes and give aways donated by our sponsors and support)
3. Contribute to sponsorship. 100% of all funds raised for this campaign goes directly to sponsoring veterans onto the Survive to Thrive Nation program. (more information can be found at www.survivetothrivenation.com)
Whilst the ADF train us to go to war, they do not train us to come home. 


Together we can save and change lives together!!!!
Let's goooooo!!!!