News
Staying active while on holidays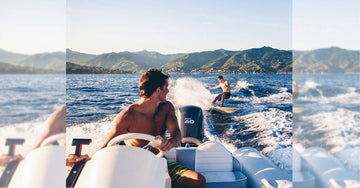 We work hard to prep for our travels, especially when the agenda calls for loads of beach time. Grinding in the gym, heating up in the kitchen and of course all those extra hours at the day job. There are plenty of pictures to be taken, swimsuits to be worn and lots of good food and drink to be consumed.
Have you ever felt exhausted by the time you make it to your final destination? Of course it's a time to relax but it should also be a time to explore. Don't let all your hard work prevent you from making the most of your holiday. The best way to keep your energy up and your gains on point during your travels: start your day with a quick active workout!
As a personal trainer and nutrition coach, I always encourage staying on top of your fitness goals. Of course "life happens", but as long as you're capable, get your heart pumping and sweat flowing for at least 15-30 minutes every day – even while on vacation. Working out in the morning will get your metabolism amped up, energy improved and muscles active for that beach bod pump-look and the stamina needed to last the day. Plus you're less likely to feel guilty about any unhealthy meals or massive amounts of frothy beverages, which may or will probably occur.
Below is a simple workout you can do anywhere. It will get you ready to take on your day, especially if it consists of lounging at the beach with some cold brews.
Vacay Workout
 1-Minute increments:
Ski Jumps
Kickbacks
Step Ups (one minute each leg)
Rocking lunges
Repeat
End with:
25 Push Ups
50 Mountain Climbers
100 Crunches
Total: 15-20 minutes
Easy peasy. First thing in the morning get this out of the way and you'll be refreshed and ready to rock your body all day. Abs? Check. Legs? Check. Chest? Check.
Stay active my friends!
Cheers!