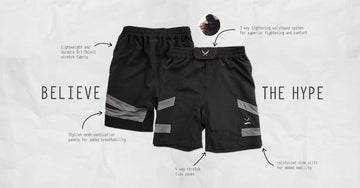 [vc_row][vc_column width="1/6"][/vc_column][vc_column width="2/3"][vc_column_text]
This week we put our Hype shorts through their paces and give you the low down on what we think makes them the most comfortable workout shorts on the market.
As with all our high performance shorts it starts with the fabric. Our light weight, durable Dri-Shield fabric is specifically engineered for added stretch.
---
---
So whether you're running, jumping, squatting, kicking or are just stretching out on the couch with a cheat day meal, the Hype shorts are there working with you for the ultimate comfort.
Our 4 way stretch, Flex-Zone lining is reinforced in to the crotch for extreme movement and high intensity exercise. Not even James Brown could've busted these bad boys open with his eye-watering splits. 
There's nothing wrong with a good sweat session, so long as you're not drowning in a pool of soggy workout gear. It's neither comfortable nor flattering. So we've made sure our comfortable workout shorts come prepared for battle.
The combination of moisture wicking, anti-bacteria fabric and inbuilt ventilation panels will keep you cooler, drier and smelling good for longer.
Just another feature adding to the most comfortable workout shorts you will ever wear.
We've taken a subtle but technical approach to the design features of the Hype shorts. We've designed a tailored fitting short that is not only easy on the eye but will fit any type of body leaving enough breathing room for those monster quads without being overly baggy.
What makes these the most comfortable workout shorts you have ever worn?
As a result of our extensive research and development, we've designed and created a waistband for superior comfort and high performance functionality with bad-ass looks.
The elasticised waistband gives you the option of easy pull on pull off comfort for casual wear.
The side slits add style and mobility while the 3-way tightening waistband system masterfully completes this training short.
The WPN. branded front pouch hides the internal drawstring and velcro for added tightening in intense workouts with no velcro scratching on your stomach.
A masculine black and grey colour and comfort to boot these shorts are bound to be your go to for your active lifestyle.
For a closer look at the most comfortable workout shorts you will ever wear get in to the Hype at: https://wpnwear.com/shop/bottoms/hype-shorts/ 
[/vc_column_text][/vc_column][vc_column width="1/6"][/vc_column][/vc_row]