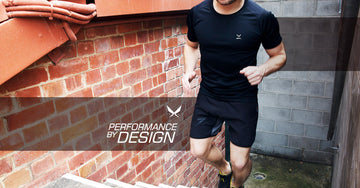 [vc_row][vc_column width="1/6"][/vc_column][vc_column width="2/3"][vc_single_image image="3146" img_size="large" alignment="center" css_animation="top-to-bottom"][vc_column_text]
We've seen them all before right, cooling t-shirts that promise to do things like 'whick' the sweat away and keep you cool. Almost as if there is some magic whicking fairy that is wiping those beads of sweat and tears away from your body.
Sadly, a lot of it is B.S!
It's a sad fact and something we've never wanted to mislead our customers with.
We searched high and low for technology that actually works. That actually improves your performance, feels comfortable and looks good.
We're excited to say we've finally found it.
Introducing the WPN. X T-Shirts with built in IceSkin™ technology.
We could spend hours, using fancy words and confusing terms that we're sure would impress some big companies. But we know you just want the facts, how it impacts you and what it means to your performance:
The key is in the natural jade minerals that are knitted into the fabric. These bad boys are all natural and react to moisture to accelerate the evaporation.

When moisture exits the body and evaporates, jade minerals harness the body's natural cooling, physics takes over and it creates an amazing reaction.

The minerals within the shirt are cooled AND lower the body temperature by up to 5 degrees!
It's a completely different way to think about traditional cooling apparel technology.
Most cooling, quick dry and anti odour apparel use chemicals that are sprayed over the garment at the end of the production line. These chemicals wear off after about 15 wash cycles and so does all that 'technology' you paid so much for. Besides all that, who wants to workout knowing you're being surrounded by chemicals?
The cooling tech used in our shirts is literally built into the fabric so the properties will never degrade. No matter how many times you wear or wash it.
Sometimes when companies try to make shirts like this, they compromise on comfort, features and function.
We wanted to make certain that you could get a solid fit, it remains comfortable and doesn't look like something that your dad wears.
We use simple things like double hemming to make it secure. Overlock stitching so it's still comfortable but gives you room to move in the right places.
We don't usually like to big name ourselves, but you won't get your hands on this technology anywhere else in Australia. WPN. is the exclusive supplier of this technology and we're proud to partner with
Garmatex
to bring it to you.
For the gurus out there, check out the in depth explanation of how the IceSkin science works:
[/vc_column_text][/vc_column][vc_column width="1/6"][/vc_column][/vc_row]