News
WPN. in the media - Chic Fit For Gym Blokes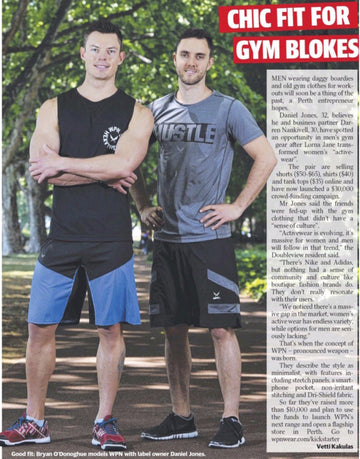 Our Kickstarter campaign was featured in Sunday's edition of the 'Sunday Times' in Perth. Check out Pg. 44 for the full story, featured below:
Men wearing daggy boards and old gym clothes for work-outs will soon be a thing of the past, a Perth entrepreneur hopes.
Daniel Jones, 32, believes he and business partner Darren Nankivell, 30, have spotted an opportunity in men;s gym gear after Lorna Jane transformed women's "active wear".
The pair are selling shorts ($50-$65), shirts ($40) and tank tops ($35) online have now launched a $30,000 crowd-funding campaign.
Mr. Jones said the friends were fed-up with the gym clothing that didn't have a "sense of culture".
"Activewear is evolving, it's massive for women and men will follow in that trend", the Doubleview resident said.
"There's Nike and Adidas, but nothing had a sense of community and culture like boutique fashion brands do. The don't really resonate with their users.
"We noticed there's a massive gap in the market, women's active wear has endless variety, while options for men are seriously lacking."
That's when the concept of WPN - pronounced weapon - was born.
They describe the style as minimalist, with features including stretch panels, a smart phone pocket, non-irritant stitching and Dri-shield fabric.
So far they've raised more than $10,000 and plan to use the funds to launch WPN's next range and open a flagship store in Perth. Go to wpnwear.com/kickstarter