News
Meet Our SORA Ambassadors From Across Australia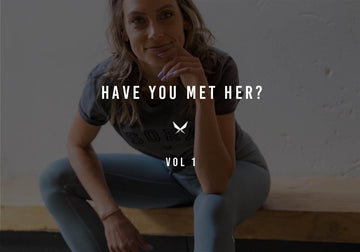 SORA
-sōra | Latin // Sister
Our SORA story begins simply based on the women around us. WPN founders Dan and Darren have been constantly inspired by their wives, mothers, sisters and daughters while understanding that men and women face different challenges. With this, the purpose and foundation of SORA became based on empowerment – how it can be defined so differently for every woman, yet how it's so integral to the sisterhood; it's a driving force so underestimated. SORA alongside WPN has been built to empower women all around us while merging physical and mental strength – placing just as much importance on one, as the other. 
With that, we wanted to align the brand with a range of key, powerful women who live and breathe the same ethos and this is where our ambassadors come in. 
MEET THE SORA SQUAD
GRACIE WALTON
The usual: Full-time CrossFit training & trying to live my youth.
Thy why: When I heard SORA was launching as the sister brand of WPN I was very excited to work with them as I knew the quality would be outstanding and the design of their active wear would support the activities I undertake daily.
The definition: Being physically strong and healthy empowers me – sharing my journey of how I became my strongest and fittest version of myself. 
The plan: Continue the journey of becoming the fittest and strongest version of myself and qualify for the semifinals of the CrossFit Games.
CARLA E.V THOMAS
The usual: Holistic health coach & expert

The why: When Brendon (SORA / WPN HQ) reached out about their sister brand SORA launching, it was a no-brainer to be involved in the shoot. Once I got an understanding of their purpose and goal with SORA along with wearing and learning about the products and their make, being an Ambassador was something I felt pulled to do. I relate so much to the idea of sisterhood, women's empowerment and just exactly what that actually means. The guys are so aligned with their brands' purposes in their daily lives and to me that's the kind of people I want to surround myself with. The forward thinkers.
The definition: People/women who are not afraid to say and live for what they stand for. More than that, 100% OWNING it! Being unique, authentic and in true alignment with themselves across all playing fields. That makes me tick!
The plan: Rather than specific goals, my overall goal is to make sure how I live and the choices I make on the daily in my personal and professional life, are always completely in alignment with who I am and what's right for me. My word for 2022 is 'stillness', so always bringing myself back to calm presence and my mantra is 'do what you are not doing', a reminder to come back to the stillness and listen to my heart when I'm not feeling in flow or alignment.
TINESHA MISKY
The usual: I'm a multi passionate human, a wife, a māma to eight-month old Ziggy, intuitive oracle reader, coach & a space holder. I create safe space for my clients to feel empowered through learning how to align their mind (logic) & body (intuition).
The why: I love that SORA stands for 'well-being' being individual to each person dependent on what feels aligned for them, their body and their lives. I'm not a big fan of being put into a box so the fact that SORA celebrates everyone's uniqueness is so epic. Plus, the quality of the clothing is beautiful and I love how the company is very forward thinking in terms of designs.
The definition: Connection to my intuition, connection to others, and connection to the world around me.
The plan: To build unwavering self belief in myself. To explore, adventure and play as much as I can. To approach this year with an open heart and mind as I continue to learn & navigate through the ebbs & flows of motherhood, relationships, career, social life, and study.
JESSIE TRELOAR
The usual: I am a writer, writing has always been a passion of mine - but last year I decided to go back to uni to study Business, Majoring in Accounting - which I am loving, it is an exciting challenge for me!
The why: SORA as a brand represents women who support and encourage each other. I am fortunate to have many strong, caring women in my life - and certainly it is amazing to work with a brand that inspires and motivates women.
The definition: For me, empowerment means being free to make my own choices. It means to be free to speak up for myself and others, to be educated, to feel comfortable in my own skin and to surround myself with people who build me up and respect me.
The plan: This year's goals include a focus on health, well-being and self-care! As well as maintaining good routines and prioritising family time. I am also getting married this year! 2022 is an exciting year!
JOANNA MCKEOGH
The usual: I am a personal trainer and I am the owner of successful holistic online coaching business named The Fitness Pursuit (@thefitnesspursuit_byjoannam). I'm also studying to become a naturopath and nutritionist!
The why: I have been in the fitness industry space for close to 10 years and I am a huge advocate for mental health. Over the years, I realised how important it was that I addressed all aspects of my clientele as a human being (mental, physical, emotional and spiritual health) in order to achieve their goals – it's important. My clients entire wellbeing is important – and that is why I love SORA. SORA is all about supportive communities. SORA is passionate about creating/recreating a level of wellness and vitality across all bodies, their minds and and their spirit and encourages women to imagine the best possible version of themselves. And of course, their active wear is the best
The definition: Realising that only I am responsible for how I respond to things happening in my life and for living in it. By creating opportunities, I am able to do anything I want to, it's all a matter of doing! Every day is full of choices and opportunities. One of my favourite affirmations is 'I am open to receiving the abundance of opportunities that are flowing to me'.
The plan: At the beginning of each year, I like to a pick a word. Not just any word, but a word that inspires me and a word that reflects my highest self. It is a word that harnesses the energy I want to embody throughout the whole year. A word that sets my goals for the year ahead. My word for 2022 is 'CORE'. It's my little reminder to hone in and focus on the things that matter most - living my core values, nurturing my core relationships, and tending to the core things that bring my life joy and meaning in both the professional and personal space.We can't do it all, nor should we try. instead of showing up as a watered-down version of myself, My goal for 2022 is to embrace more of my 'core'. 2022 for me is to create more space, create more balance, value my energy and to live intentionally.