News
Our 5 Favourite Mindfulness Apps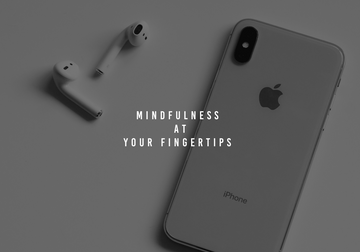 A little mindfulness can go a long way. 
Whether you're new to the game, a regular, or levelling up to Wim Hof, we're all about mindfulness maintenance and most importantly – mastering it. 
It can be a hard path to navigate when starting out as mindfulness is far from linear and uniquely explored and fortunately, there's a plethora of resources out there at our fingertips – literally. 
So with that, free-up some phone space for your head space and check-out five of our favourite apps to help map-out your mindfulness journey. 
#1 HEADSPACE
Headspace is the Australian National Youth Mental Health Foundation, running since 2006. Their app consistently ranks on app stores and all for good reasons. Easy to navigate, aesthetically pleasing, and super versatile, the Headspace app is essentially a hub to match your mindfulness momentum. Open and click straight into guided meditations, journalling, breathing exercises, audio experiences, daily videos and more. 
#2 THE WELL APP
Backed by science and psychology, The Well App is based on bringing more happiness into your life long-term in just 21 days. With engaging 'reporting', you can track your mental wellness and dive into meditation, journaling, structure, and guided activities. When searching, look for "Well: Reboot Your Mindset".
#3 LIFECRAFT
Consider this your digital life coach that inspires, tracks, motivates, and challenges all aspects of your wellbeing. By implementing a unique system they call a "virtuous cycle", tap into four key functions. The 'compass' is a daily message based on inspiration, lessons, and motivation. Jump into a personal or pre-set challenge to keep yourself accountable for personal growth under 'challenges' (aptly named), and improve your emotional intelligence by noting your moods and feelings as they come. As we all know, journaling is a huge player in mastering mindfulness, and you can do this here too, with daily reflections. 
#4 CALM
With numerous awards to their name it's no wonder this also made our list! The global Calm app is for sleep and meditation. With a library of guided meditations, sleep stories, stretching exercises, breathing programs, and relaxing music, the app has been backed by a number of psychologists, therapists and experts. Choose your mindfulness level and dive in!
#5 INFINITY LOOP
This one is more of a 'mind calmer' than long-term mindfulness mastery. Ideal for when you're feeling overwhelmed and heading towards the never ending cycle of thought-racing, tap into a soothing yet entertaining 'game' of sorts. Take a moment to calm and clear your mind and slow down your thoughts by being present with the puzzle – following the infinite loop.

Have an app you love and swear by? Share it with our WPN & SORA Community!