News
Protein Packed Smoothies You Can Make on Your Own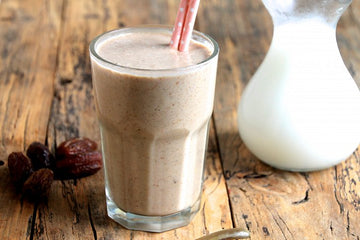 These days, most gyms have some kind of smoothie bar.  You can choose from dozens of delicious options, all of which are crafted from natural ingredients and tailored to your nutrition goals.  While the thought of a ready-made shake can seem mouth-watering, this daily treat can add up over time.  Instead of shelling out your hard-earned money for premium smoothies, start making your own.  All you need is a standard blender and a quick trip to your nearest market.  
Get Your Potassium Fix
Potassium is a post-workout nutrition necessity.  Sure, you could just eat a banana, but that's boring.  Why settle for that when you can whip up a chocolate, peanut butter and banana shake?
Here's what you'll need:  about a cup of water, yogurt or milk, a double scoop of some chocolate protein powder, 1 banana, a dab of peanut butter and some cocoa nibs.  Toss everything in the blender and you've a got a tasty, low calorie recovery smoothie packed full of protein and fiber as well as good fat and carbs.
The Antioxidant Solution
Berries have been proven as powerful antioxidants and can even work as mild probiotics.  When you increase your berry intake after a tough session, you're doing more than replacing protein.  You're influencing your overall health.  For this shake, use water as a base.  Toss in 2 cups of various berries, a half-cup of yogurt, 2 scoops of vanilla protein powder, some walnuts and flaxseed and a bit of spinach.
A Tropical Boost
Looking for something with even richer flavor?  You're in luck.  Take the same water, yogurt and vanilla protein powder base of the previous shake.  But this time, add in a cup of pineapple, half a banana, coconut flakes, ground flax and spinach.  The result is a shake packed with almost 60 grams of protein.  That's insane nutritional power courtesy of a delicious creation.
Soothe Your Sweet Tooth
What about those days when you crave something sweet but you know that pack of cookies will set you back?  Opt for a chocolate mint smoothie, which has all the flavor of a chocolate bar with none of the negative side effects.  You'll need a scoop of chocolate protein powder, a cup of chocolate almond milk, 1 tablespoon of walnuts, 2 tablespoons of cocoa powder, a sprinkle of cacao nibs, 2 mint leaves, a quarter cup of water and some ice cubes.  The finished result? A chocolatey delight with none of the guilt.
The great thing about these recipes is that nothing is set in stone.  You can mix and match ingredients to land on a taste that you love.  Think the chocolate smoothie needs some yogurt?  Add it in.  Feel like the berry smoothie could use some almond milk as its base?  Toss it in.  Smoothies are a flavor-rich and easy way to meet your daily nutritional goals without getting bored or spending lots of cash.  The next time you think about heading to the juice bar, make a bee-line for your kitchen instead.